Should the Cowboys prioritize Caleb Farley or Patrick Surtain in the draft?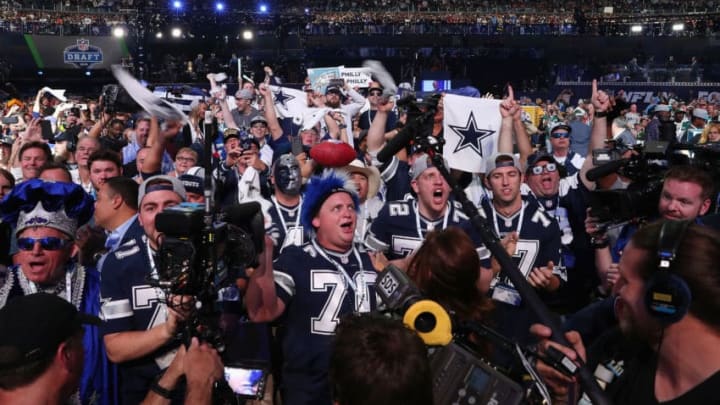 Dallas Cowboys fans (Photo by Tom Pennington/Getty Images) /
Patrick Surtain II, Alabama Crimson Tide, (Photo by Alika Jenner/Getty Images) /
The case for Patrick Surtain II
The case for Alabama cornerback Patrick Surtain II mainly boils down to three main arguments. His pedigree, the school he played at, and the fact that he played during the 2020 season.
The 20-year old's last name might sound familiar to some long-time football fans. That is because Surtain's father, Patrick Frank Surtain, was a three-time Pro Bowl cornerback who played eleven seasons in the NFL. Having an NFL player as a father is certainly an advantage especially when you aspire to play the same position as him and it is hard not to think of comparisons between the two when watching highlights of the younger Surtain at Alabama.
It is also true that playing for Alabama certainly bolsters the case for Surtain over Farley in this debate. Surtain played against more difficult opponents and on bigger stages than Farley had to in college, especially in practice where he had to face off against players like last years' Heisman Trophy winner Devonta Smith.
In addition to the fact that the Alabama product played tougher opponents, it should also help his draft stock that the Dallas Cowboys' most talented cornerback currently on their roster was a former teammate of his at Alabama. The idea of pairing Surtain II back with Trevon Diggs, who led the team in interceptions and pass deflections as a rookie, is enticing, to say the least.
It also helps his case that fans of America's Team, as well as Dallas's front office, actually got to see him play last year. Surtain II managed to accrue a career-high nine pass deflections and 3.5 tackles for a loss while playing an integral role in the Crimson Tides run to win the college football national championship.
It should also be mentioned that former NFL scout Daniel Jeremiah compared the young defender to former Cowboys cornerback Byron Jones. Jones played five seasons in Dallas, making the Pro Bowl once, before leaving this past offseason to play with the Miami Dolphins.
Overall, just like Farley, Patrick Surtain II is a very good prospect who would instantly improve the Cowboys secondary. The pedigree of his name and the school he attended in college make him a tantalizing prospect, especially considering how well he played during his collegiate career.
Verdict
The gap between Farley and Surtain is not significantly large in any meaningful way. Both of these players should be among the top prospects that Dallas targets with its tenth overall pick in the upcoming NFL Draft. They are both big cornerbacks who should excel in the NFL if they are put in the right system.
Personally, I would give a slight edge to Caleb Farley. He is a more physical and polished player than Surtain coming out of college and was also better at getting takeaways, which is something the Dallas defense desperately needs to get better at. However, either of these players would be an excellent addition to the team and the Dallas Cowboys would be well served to get either of them.