Should former Cowboys quarterback Tony Romo make the Hall of Fame?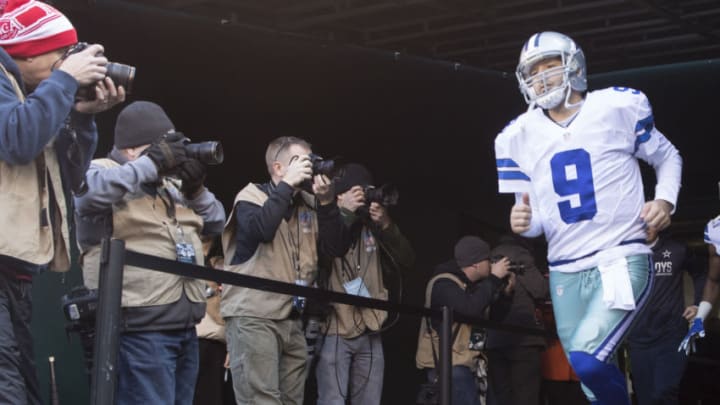 Tony Romo, Dallas Cowboys, (Photo by Mitchell Leff/Getty Images) /
Fans of the Dallas Cowboys got an exciting piece of news this past weekend when it was announced that their long-retired star wide receiver Drew Pearson was finally, after over thirty years of waiting, selected to the Pro Football Hall of Fame. Pearson played his entire career for the Cowboys and finished with three All-Pro selections and 7822 career receiving yards and 48 touchdowns.
The news came on the same weekend it was revealed that former Cowboys quarterback Tony Romo and former Dallas linebacker DeMarcus Ware would be eligible for the 2022 Hall of Fame class.
Ware played most of his career with the organization before heading to the Denver Broncos for the final three years of his 12-year run in the league. The nine-time Pro Bowler went on to win a Super Bowl with the Broncos in his final year in the NFL back in 2016.
The former Cowboy finished his career with the ninth most sacks in league history, finishing with an astonishing 138.5. He also led the league in sacks twice, one of which saw the dominant defender posting an eye-popping twenty sack season back in 2008, and in tackles for a loss three different times during his tenure in Dallas.
Suffice it to say the case for Ware to make the Hall of Fame is extraordinarily strong and it would be genuinely shocking if he was not inducted within the next couple of years. He finished his career as one of the greatest pass rushers in NFL history and managed to get a Super Bowl on his way out the door.
However, the case for former Cowboys quarterback Tony Romo is much less clear cut than that of his former teammate. Romos' statistical accomplishments speak for themselves. The Eastern Illinois product went from undrafted rookie to the franchise quarterback for one of the NFL's most historically successful organizations' and his improbable rise will, and should, certainly bolster the case for his induction into the Hall of Fame.
Romo currently has the ninth-best passer rating in league history at 97.3 (all the players currently ahead of him, including Dak Prescott, are still active) and made the Pro Bowl four times throughout his career with Dallas. Like Pearson, he played his entire career with the Cowboys. However, unlike Pearson, he never won a Super Bowl nor found substantial success in the playoffs.
The former Cowboys signal-caller finished his career with the same completion percentage as legendary quarterback Peyton Manning at 65.3 percent (tied for the tenth best of all time). He also posted an impressive 78-49 regular-season record during his decade-long run under center for Dallas.
The case for Romo is very simple and tied to his efficient and productive time under center for one of football's most storied franchises. The case against making him a Hall of Famer largely rests on two things, his lack of postseason success and his struggles with injuries throughout his career.
Romo finished his career with a 2-4 record in the playoffs and failed to even make an NFC Championship game during his time in Dallas. He also saw his career prematurely ended with several significant injuries that eventually led him to be replaced by quarterback Dak Prescott during his final year in the league in 2016.
Fans of America's Team will always be left to wonder what could have been if Romo had remained healthy in 2015 and 2016 or if the referees had correctly ruled that wide receiver Dez Bryant caught it back in 2014. However, the inconvenient truth is that Romo never quite managed to enjoy substantial success in the playoffs.
Despite his lack of postseason success and his struggles with injuries that plagued him for much of his, career Romo was an objectively excellent signal-caller for the Cowboys. He shattered the franchise's record for both careers passing touchdowns with 248 and passing yards with 34,183 despite his struggles to stay on the field (it should be noted that Romo played in a more pass-happy league than former Dallas quarterbacks like Troy Aikman and Roger Staubach).
The question of whether Tony Romo inevitably winds up in the Hall of Fame is still up in the air and, if Drew Pearson is any indication, could be for quite some time. However, Romos' statistical accomplishments on top of his improbable and inspiring story of going from undrafted rookie to franchise quarterback should warrant him legitimate consideration for the Hall of Fame.