Dallas Cowboys top 10 greatest Super Bowl moments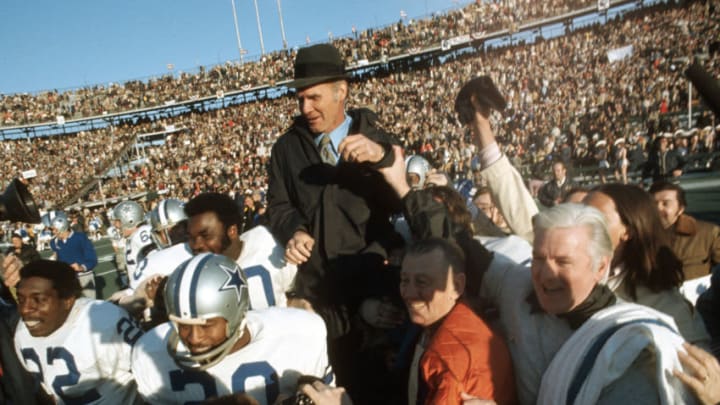 Head Coach Tom Landry Dallas Cowboys (Photo by Focus on Sport/Getty Images) /
Troy Aikman, Dallas Cowboys. (Photo by Rick Stewart/Allsport/Getty Images) /
Troy Aikman flashes the one
Yes, I pulled the trigger on what is probably going to be a controversial pick but I don't care. Dallas Cowboys quarterback Troy Aikman waving the number one sign after he knew the Dallas Cowboys were going to win the Super Bowl is my number one Dallas Cowboys iconic Super Bowl memory.
This moment launched not only the Dallas Cowboys but also the NFL into elite territory. You either loved or hated the Dallas Cowboys which depending on who you rooted for, gave the league a bad guy to go against or a wagon to hitch a ride on.
Up until that point, the Dallas Cowboys were deemed too young to be able to have the success that they did. Not only did they accomplish the feat, but they also did so in convincing fashion by dominating their opponents and put up stats that feel almost unimaginable.
I mean, how else can you explain causing nine turnovers in a Super Bowl. Even with everything that went on in the game and all of the different personalities mixed with this group, it is the Troy Aikman putting up his finger that best explains a Dallas Cowboys Super Bowl.
Whenever it is shown, it is almost universally understood that the Dallas Cowboys dominated their opponent and the NFL would have to deal with a young talented team. It also signals the beginning of probably the last true dynasty.
Sure Tom Brady and the Pats have won a lot lately but I attribute that more to Brady and Bill Belichick than a team dynasty.
The NFL changed the rules to the game with their introduction to free agency, which I believe helped kill this dynasty, but not before coming away with what I think is the best and most iconic Super Bowl moment in Dallas Cowboys history.