Dallas Cowboys might have to rethink their draft strategy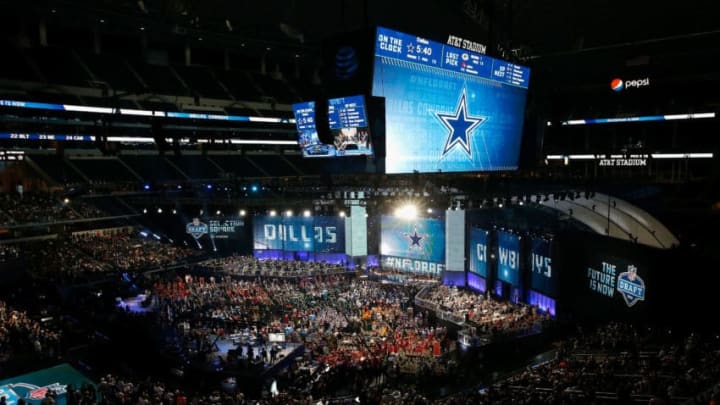 Dallas Cowboys, 2018 NFL Draft (Photo by Tim Warner/Getty Images) /
Patrick Surtain II, Alabama Crimson Tide,(Photo by Carmen Mandato/Getty Images) /
The Dallas Cowboys have a chance to win the NFC East tomorrow. If they do they will have to rethink their draft strategy.
The Dallas Cowboys somehow have a chance to win the dreadful NFC East tomorrow with a win over the New York Giants and a loss by the Washington Football Team. Winning the division would certainly be something to celebrate in this otherwise disappointing year. However, that feat would not come without negative consequences.
The Cowboy's current three-game winning streak has kept the teams' playoff hopes alive, but it has also resulted in a significant dip in their draft stock. The organization was projected to have a top-five draft pick as recently as a month ago. Their draft pick is currently projected to likely fall somewhere between 12 and 19 depending on the outcome of tomorrow's matchups.
The difference between a top-five draft pick and a mid-first round pick is usually quite significant. That is especially true this year with a draft class that contains a handful of transcendent players like Clemson quarterback Trevor Lawrence and Oregon offensive lineman Penei Sewell.
Dallas's slide in the draft likely puts them out of range of the top players at several important positions of need. That includes the cornerback position as well as the defensive line where the team could use additional help. The organization's difficult cap situation makes the draft even more important and barring a move to trade up in the draft the Cowboys might find themselves missing out on top-tier prospects.
Here are some possible moves Dallas could make with their mid-first round selection.
Trade up
The Cowboys are in desperate need of help on the defensive side of the football. The team is currently giving up the third-most points per game this season with 30 and has, at times, struggled to get takeaways.
Unfortunately for fans of America's Team, winning the NFC East would likely move them out of range to get several top defensive prospects like cornerback Caleb Farley of Virginia Tech or defensive lineman Kwity Paye at Michigan.
Given the organizations' poor cap situation heading into next season, the 2021 NFL Draft will likely be their best chance to add help on the defensive side of the ball. That might lead the Cowboys to move up on the draft night to try and at least get a chance to nab a prospect like Alabama cornerback Patrick Surtain II.
The team would likely have to give up a hefty sum in order to move up into the top ten. That would almost certainly force Dallas to give up their later round draft picks or future draft picks. However, given the organizations' struggles defensively and the considerable drop-off in talent after the top-fifteen players that move might make sense in order to allow them to compete next year.