Fixing this one mistake could save the Dallas Cowboys season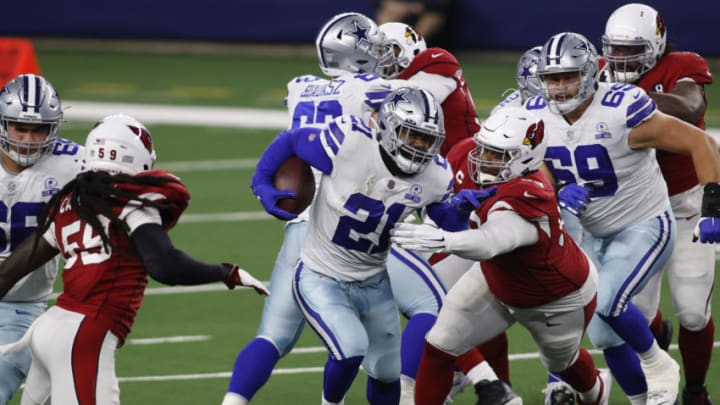 Dallas Cowboys, Ezekiel Elliott Mandatory Credit: Tim Heitman-USA TODAY Sports /
The Dallas Cowboys have a myriad of issues, but chief among them is a debilitating turnover problem that could save their season if corrected.
There is just no way to sugarcoat it, the Dallas Cowboys have a full-blown turnover problem. For a team that has struggled so mightily this season, arguably their biggest issue thus far has been their inability to hold onto the football and take it away from other teams.
If they can fix this critical problem, it won't just alleviate pressure from both sides of the ball, it can help salvage a season that feels destined for disappointment.
Turnovers have been an issue all season for the Cowboys. So far in 2020, they have been outscored off turnovers 84-10. 24 of those points came on Monday night courtesy of two Ezekiel Elliott fumbles and two Andy Dalton interceptions.
They also set a dubious mark in the process. They've had fumbles on consecutive drives three times this season, no other NFL team has done it at all yet. Right now 21.4% of the Cowboys' offensive drives end in a turnover.
Even when quarterback Dak Prescott was healthy the team was turning the ball over way too much. Prior to Monday night's loss to the Arizona Cardinals the team had turned the ball over two or more times in each of their previous four games. That includes three consecutive games of three turnovers.
The difference then was that Prescott was a good enough quarterback to bring the Cowboys back from nearly any deficit. The Cowboys were 2-2 in those four games, and they faced large deficits in most of them. However, with Dak in at quarterback, you could have the confidence that the game was never truly over until the clock hit 00:00.
Andy Dalton is a more than capable backup quarterback, in fact, it isn't outrageous to call him a good backup. However, he isn't Dak Prescott and with a patchwork offensive line, he simply can't be expected to be.
Once Dak went down with his season-ending injury against the New York Giants, many fans and analysts reasonably expected running back Ezekiel Elliott to step up and lead the team. In the six quarters since Prescott's injury, it just hasn't happened. Elliott is a great running back, but you'd never know it if you were only watching his 2020 tape.
Part of the issue has been an offensive line decimated by injuries. Another major factor has been that the Cowboys have been playing from behind so frequently that they haven't been able to establish the run the way they would like to.
However, far and away the most concerning thing about Elliott's 2020 so far has to be his fumbles. He's lost four over his last 105 touches, a number that equals the 1,207 before that. On the year, only one other running back has lost multiple fumbles.
Zeke's five fumbles this year are nearly double his three from last season. He also has more than double the number of fumbles that the next-closest running back does.
The offense's turnovers have also consistently put the defense in a bad starting field position. After six weeks, Cowboys' opponents' average starting their drives at the 32.96-yard line, third-worst in the NFL.
As bad as the offense has been at turning the ball over, the defense has been just as bad, if not worse at creating turnovers. They've forced just three in six games this season, which is tied for the worst in the NFL. They've managed to snag just a single interception on the year.
Yes, the offensive's turnovers have surely put the defensive in terrible field position and made their job harder. But when you lose the turnover battle as badly as the Cowboys have, it's an uphill battle to win any games. Right now Dallas ranks dead last in turnover differential with -12.
It's not a surprise that the top five teams in turnover differential after six weeks are a combined 25-2. Meanwhile, the bottom five teams have a record of 9-18-1 (it's worth noting that a third of those wins come courtesy of the Las Vegas Raiders). Currently, there are just three teams (the Raiders, Los Angles Rams, and Buffalo Bills) who have a winning record despite posting a negative turnover differential.
Turnovers are by no means the only problem on defense. The Cowboys look lost in new defensive coordinator Mike Nolan's scheme, blowing coverages and at times showing lackluster effort. However, when the opportunity to make plays has presented itself, the team has consistently failed to capitalize.
A lot has already been written about how bad the NFC East is this season, and the 2-4 Cowboys are neck and neck with the 2-4-1 Philadelphia Eagles for the division lead. But have you ever felt less confident in a team basically tied for the lead in their division than you do in the 2020 Dallas Cowboys?
If Dallas wants to have any hope of sniffing the playoffs without Dak Prescott, they need to fix their turnover problem. As simple as it sounds that means forcing more on the defense and holding onto the football on offense. Turning the ball over less will give the defense far better field position to play with and should help alleviate some of their issues.
These are crucial, correctable mistakes that go back to the fundamentals of football. If the Dallas Cowboys can get a handle on the turnover battle they could still stand a chance.