Cardinals blowout Cowboys; Fans deserve better than this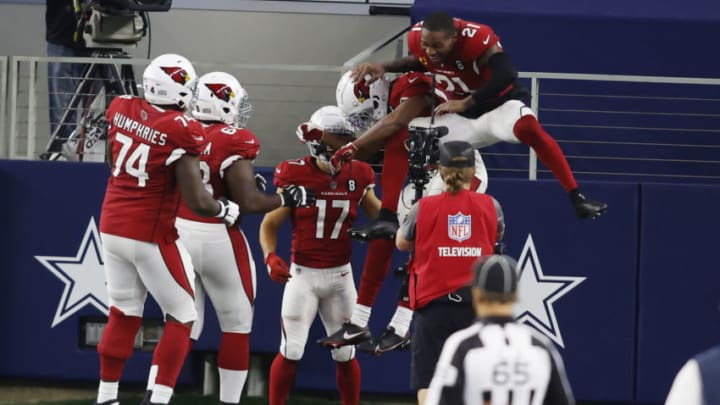 Kenyan Drake, Arizona Cardinals, Tim Heitman-USA TODAY Sports /
The Dallas Cowboys were blown out at home Monday night against the Arizona Cardinals. Fans of America's Team deserve better.
The Dallas Cowboys got routed by the Arizona Cardinals, 38-10, in Jerry World on Monday night. The team played its worst game of the season by far. The Cowboys are now 2-4 on the season and yet miraculously still lead the dreadful NFC East.
So far this season it has been relatively easy to find bright spots even in the team's losses. This week has made that proposition much more challenging.
Dallas's defense did look genuinely better at the start of this game with linebacker Leighton Vander Esch back on the field. The team did not give up any points in the first quarter and looked poised to deliver their best defensive showing of the season. Obviously, that did not happen.
Instead, America's Team delivered another miserable performance on the defensive side of the ball that will certainly exponentially increase the calls for defensive coordinator Mike Nolan's job. However, unlike the first five games of the season, the offense looked anemic as well.
Backup quarterback Andy Dalton, also known as the "Red Rifle", struggled to move the offense. The team predictably fell behind by multiple scores again, but this time starting quarterback Dak Prescott was not there to bail them out.
The "Red Rifle" finished the game with over fifty passing attempts along with one touchdown and two interceptions. Running back Ezekiel Elliott uncharacteristically fumbled the ball two times in the first half and the team was never able to recover.
Dallas's offensive line, once a strength of the team, also struggled against the Cardinals defense. The unit was struck with another unfortunate injury to their starting guard Zack Martin who missed most of the game with a concussion. The team allowed three sacks and struggled to establish the run.
Fans of America's Team deserve better than to constantly be trailing by multiple scores. They deserve better than the sloppy play that has plagued the team thus far on both sides of the ball. They deserve better than to be sitting at 2-4 six games into the season.
The Dallas Cowboys delivered their worst performance of the season on Monday night, despite stiff competition. This team needs to play better moving forward because at this point it does not even look like they are trying to win games.