Dallas Cowboys: Which pass-catcher has impressed you so far?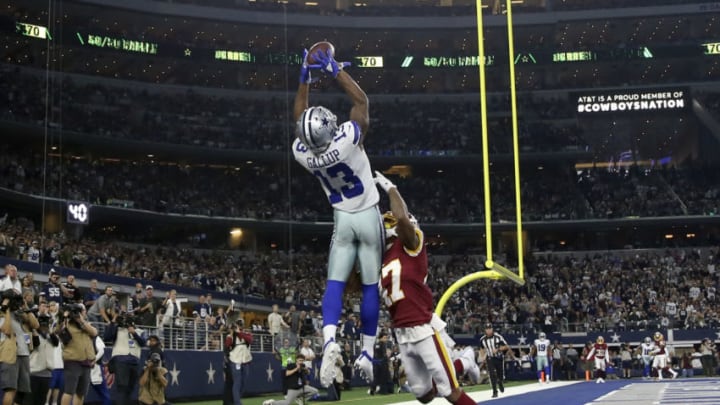 Michael Gallup, Dallas Cowboys Mandatory Credit: Kevin Jairaj-USA TODAY Sports /
Michael Gallup, Dallas Cowboys (Joe Nicholson-USA TODAY Sports) /
Who Has Impressed You the Most?
All four pass-catchers have had a great start to the season. While Cooper had the best statistical start among the four players, Schultz has had the biggest jump in production. Lamb came in and played great as expected, and Gallup made his plays count.
For me, I have to say that Schultz has impressed me the most. An almost 900 receiving yard season as a tight end is very good.
While I don't expect him to put up those numbers, you need to respect what he has done mostly from Weeks 2-4. That is where his production has been great.
Let's say his production drops down the line, and he ends up with 650 receiving yards. That would be the first time since 2016 that the Dallas Cowboys had their tight end rack up that many yards.
I have a feeling people will be the least impressed with Gallup. While he has made the most of his catches, his catching percentage of 54 percent needs to be higher.
Lamb has had a great start to the season, but something is missing. While playing for the Sooners, he was a lethal threat while running with the ball. We have yet to see much of this at the NFL level, but his excellence catching the ball and creating separation overshadows it.
Cooper has been running routes on a dime and making some catches that others wouldn't be able to make. The star wide receiver deserves credit for garnering the attention of defenders. His teammates have benefitted from this.
Regardless of who it is that has impressed you the most so far, the four pass-catchers listed have played very well in the first four weeks of the season. In fact, they play a big part in the Dallas Cowboys remaining competitive in the high scoring games.