Breaking down the Dallas Cowboys need for Jamal Adams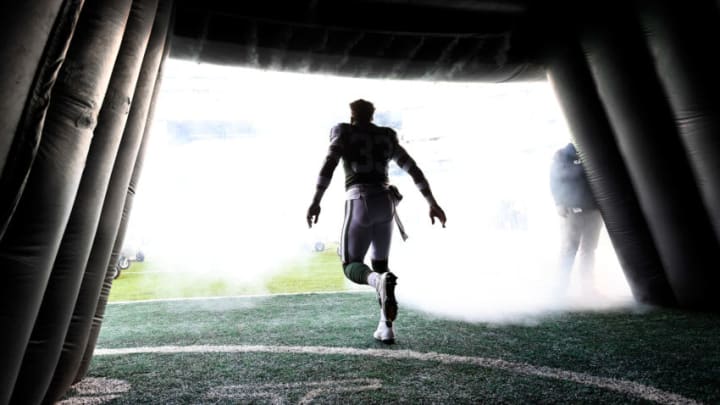 Jamal Adams, New York Jets (Photo by Sarah Stier/Getty Images) /
Where do the Dallas Cowboys really stand with All-Pro safety Jamal Adams?
I have tried to stay away from this Dallas Cowboys topic simply because everyone has either reported or has added in their two-cents but I can't stay away. I want the guy to be wearing a star on his helmet just as much as the next guy. Even with so much publicity Jamal Adams has recently created with his reported trade demands, there are a few things that are being left out of all the talk.
Adams reportedly has a list of eight teams that he would accept a trade but the New York Jets hold all of the cards. Three of those teams, the Houston Texans, Baltimore Ravens, and Kansas City Chiefs, reside in the AFC which the Jets might be hesitant to do business with.
The Philadelphia Eagles are on that list but the team just recently gave up a third and a fifth-round pick for cornerback Darius Slay. Giving up a 1st and a third, which apparently is what the New York Jets are asking for, is certainly foolish considering the Eagles are projected to be roughly $50 Million over next year's salary cap according to overthecap.com.
The San Francisco 49ers just traded away star defensive tackle DeForest Buckner to the Indianapolis Colts because they though trading him rather not paying him was in the best interest of the team. Trading for a player that is going to command top dollar is something that I don't think this team covets but is certainly not out of the question which is why I place them in the maybe category.
The Tampa Bay Buccaneers certainly could use the defensive star power and carry the heavyweight names that make this team a Super Bowl hopeful. Reuniting with defensive coach Todd Bowles certainly doesn't hurt either. Tampa Bay has just under $5 million dollars of cap space but they do have over $63 million to their name next year. Constructing a long term deal certainly wouldn't be hard for them to maneuver. Tampa is a serious contender for his services.
The Seattle Seahawks is the team that worries me because this is an absolute fit and this team is not afraid to take a chance on players. Just a reminder. from 2012 through 2019 the Seahawks traded out of their original first-round selection or traded it for a veteran player. Sounds to me like this is music to Seattle's ears.
Last is our beloved Dallas Cowboys who have a need at this position. Trade compensation is apparently a first and a third but I also believe that a player is going to be involved. No, it is not going to be wide receiver Michael Gallup. Scoring points with a three-headed monster at receiver are going to outweigh the need for Adams.
Now, the player who was selected with the supposed pick the Cowboys were to send to Seattle for star safety Earl Thomas is certainly intriguing enough to get Dallas over the hump. Guard Connor Williams would be a plugin play guard for the Jets who could also move him back to tackle. I recently talked about starting Connor McGovern over Williams and having Williams take over the swing tackle position.
If McGovern does beat out Williams, will the Dallas Cowboys regret not moving Williams for an All-Pro? Williams has just enough luster of being a second-round pick at a position of need for the Jets. Technically, the Dallas Cowboys would be sending a starting offensive lineman to them along with a first and third that they supposedly covet. Do we have your attention New York?
What type of player would the Dallas Cowboys be getting in Jamal Adams?
Jamal Adams would instantly become the leader of the defensive side of the room. No disrespect to DeMarcus Lawrence but when Dallas traded for Michael Bennett, it was newly acquired Bennett, not Lawrence who was giving the much-needed leadership speech.
Adams would also flourish in new defensive coordinators Mike Nolan's aggressive defense. Adams did it all for New York and having him not only cover but pass rush is an element we have not seen in a while here in Dallas.
For those of you who are against bringing Adams in, I leave you with three moments in Dallas Cowboys' recent playoff losses. First is the 2014 Divisional Round at Green Bay. Yes, this is the "Dez Caught" it game so I apologize in advance for bringing up bad memories.
At the end of the third quarter, Dallas was up 21-13 with 1:52 remaining. It was third and fifteen with Green Bay just outside of field goal range. Cowboys corner Sterling Moore was covering Packers wideout Davante Adams in the slot.
Adams was able to catch his inside route but it was strong safety J.J. Wilcox who overpursued and missed Adams. This gave Adams the angle to score on the play instead of Dallas getting the ball back and continue its ball control mantra.
The second play was the 2016 Green Bay at Dallas Divisional round where Packers quarterback made that ridiculous throw to tight end Jared Cook to essentially end Dak Prescott and Ezekiel Elliott's rookie season.
What isn't talked about was how Jared Cook was not picked up on his crossing route by then safety Byron Jones. If Jones continues his pickup zone coverage by carrying himself just half a yard more to the right, the window would not have been open for Rodgers to sneak in that throw.
For those of you wondering, there was not a single receiver in front of Byron Jones. Cook was a few yards in front of another receiver who was covered by Sean Lee who wisely rolled his coverage over to him. Jones freelanced too much on the play and it cost the Cowboys.
The third was the 2018 Divisional Round game against the Las Angeles Rams. The Rams, who use a high number of play-action passing, ran a play-action run to the left. Strong safety Jeff Heath failed to diagnose the play correctly.
Heath walked up to the line of scrimmage to help out on run support. Cowboys corner Chido Awuzie picked up the receiver who was lined up tight while linebacker Sean Lee picked up the tight end in the crossing route. Heath, who has containment on the backside of the play, got fooled by the play-action and allowed Jared Goff to bootleg outside for the first down eliminating the Cowboys.
If you are telling me that safety is not worth considering giving up so much capital, I just presented three pivotal plays by safeties that have either ended or drastically contributed to the Cowboys playoff demise.