The 2020 Dallas Cowboys must win the battle of attrition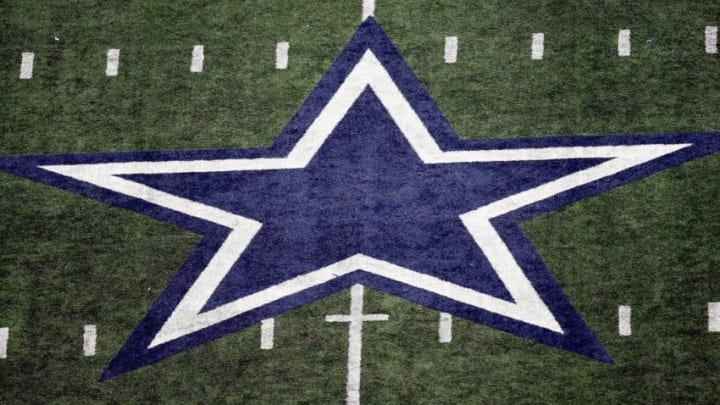 The star at Cowboys Stadium (Photo by Ronald Martinez/Getty Images) /
With a makeshift offseason, the Dallas Cowboys, like the rest of league, will be in a war of attrition and the last men standing will win.
With everything going around in the world today, athletes have been using creative methods to try and stay in shape. The Dallas Cowboys were expected to get an early jump on activities because they just hired a new head coach in Mike McCarthy.
I hate to say this but not all professional athletes are built the same. Some are self-starters that do not need team help to stay in shape but there are a select few that I am sure teams across the league are worried about their conditioning.
It is so good to see more than a handful of Cowboy players post on social media their offseason workouts, meal plans, and physiques which doubles-down on their purpose. The fist is to promote themselves as a player but the other is to show their team that they have committed themselves, most in isolation, that they will be ready for work whenever that arrives.
We will not know how well-conditioned these athletes will be until they return to their team facilities but I hope the eagerness of new head coach Mike McCarthy has for his team is somewhat tampered down to allow athletes to slowly regain their feeling for the game and their new teammates.
I still remember entering the 2014 season the disgust on the players' faces when Dallas Cowboys linebacker Sean Lee went down with an apparent season-ending injury. The injury to Lee ended up being a torn ACL during OTAs almost six years to the day.
With a new coaching change, athletes will be eager to show what they can do with the new coaching staff and that is where lies the problem. After being away from team activities more than in the past, injuries I suspect will be at an all-time high this season.
This season is already filled with hope and promise and it would be just a shame to lose key players before the season starts. It would also be unfortunate if the players are held back too much and injuries start to pile up during the season.
Mike McCarthy needs to find a middle ground for his new team so that neither of these scenarios takes place. Longtime strength and conditioning coach Mike Woicik left the team this offseason and he was replaced by understudy Markus Paul.
The good news is that Paul already knows the majority of the players since he has been here since 2018 so getting them to where they need to be shouldn't be that difficult. The bad news is that he is going into his first season as the head strength coach won't allow him to properly implement the regiment he wants for this team.
We always talk about the men behind the scenes and this gentleman undoubtedly has a massive part in getting these athletes to where they need to be without pushing them to break down. Paul also has to make an initial assessment on all of the new players in what looks like it is going to be a consolidated amount of time.
A new coaching and conditioning staff is always a difficult proposition. Now, add in the peculiar situation the world finds itself in and it almost seems as if the deck is stacked against this new regime. One thing that the new staff has to try and avoid is the injury bug. As the old saying goes, you can't make the club in the tub.