Dallas Cowboys: Taking a rivals peek into the NFC East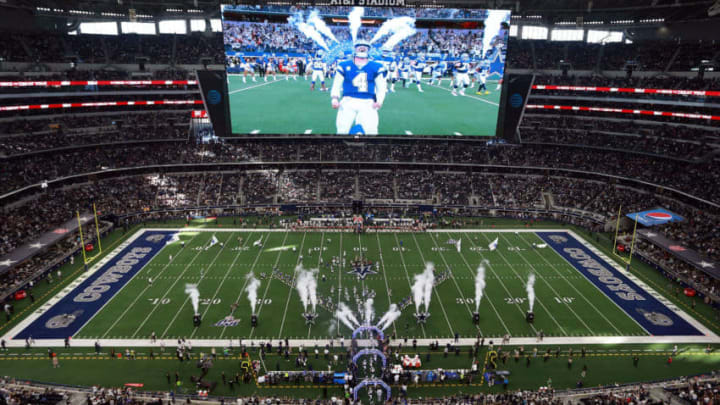 General view (Photo by Richard Rodriguez/Getty Images) /
Keeping an eye on what division rivals do is nothing new but this year could be bad news for the Dallas Cowboys when it comes to talent acquisition.
The talk on the national circuit has all been about the Dallas Cowboys and what they are projected to do. Flying under the radar has been their division rivals that have a chance to really add some dynamic playmakers.
One of the teams that could make a jump is the Washington Redskins. They are projected to take the best player in this year's draft by selecting Ohio State defensive end Chase Young with the second overall selection.
There have been unconfirmed whispers that the New York Jets might be interested in Washington's Pro Bowl left tackle Trent Williams. Making the connection that the Jets could revisit trade talks about their own defensive star safety Jamal Adams would be a worst-case scenario.
A trade between the two players would not only boost Washington's secondary but it would also crush the hopes of the fans who believe Adams is destined to be a Dallas Cowboy. Having Adams and safety Landon Collins in the defensive backfield could create an issue for the Cowboy offense.
I will point out that this time of year is ripe with whispers and rumors to throw off what teams actually want to do. Let's hope that the Redskins don't pull this off as it would create a defensive Frankenstein for new head coach Ron Rivera.
The New York Giants have been pleasant this offseason. The moves they have made have a "meh" factor so far. I hope the trend continues but they could surprise everyone as they did when they shocked everyone and selected quarterback Daniel Jones in last year's draft.
This year's draft could have a similar feel if you really look into their roster. Mock drafts have the Giants selecting either an offensive tackle or a premier defender. Good picks but what a young quarterback really needs is weapons.
With Saquon Barkley as their primary back and weapon, a wideout really makes sense here. If they select Alabama wide receiver Jerry Jeudy or Oklahoma wideout CeeDee Lamb with their first choice, it could push Jones' development which would be less than ideal for the Cowboy defense.
My hope was that the Giants suffered in quarterback purgatory for a while like the Cowboys did after quarterback Troy Aikman retired. Let's hope the Giants don't come to their senses and take a top wideout.
Now the Philadelphia Eagles have made some noise in free agency adding defensive lineman Javon Hargrave from the Pittsburgh Steelers. A good pickup but one that still has to pan out. Hargrave played defensive end in a 3-4 with Pittsburgh so transitioning to a 4-3 defensive tackle is no easy feat.
The big trade that Philly did make was snagging Pro Bowl cornerback Darius Slay from the Detroit Lions. A very good move for the Eagles if their intent is to counter the Amari Cooper re-signing by the Dallas Cowboys.
Losing safety Malcolm Jenkins is music to my ears especially with the problems Philly has had with their secondary as of late. I would think that Philly is going to either draft a wideout early in this draft or let one of the playmaking safeties fall into their lap.
Seeing LSU safety Grant Delpit fall to Philly after most early mock drafts had him going to Dallas is a real possibility that I am not looking forward to seeing.
It looks like the Division is loading up on talent which means Dallas cannot afford to whiff on this draft. Linebacker Leighton Vander Esch is the last first-round pick Dallas has used and it feels like forever ago since he was drafted.
The division moves feel like they are aimed at countering the Dallas Cowboys. I think its time for America's Team to make a splash.