Dallas Cowboys Draft: Which position should the 17th pick be used on?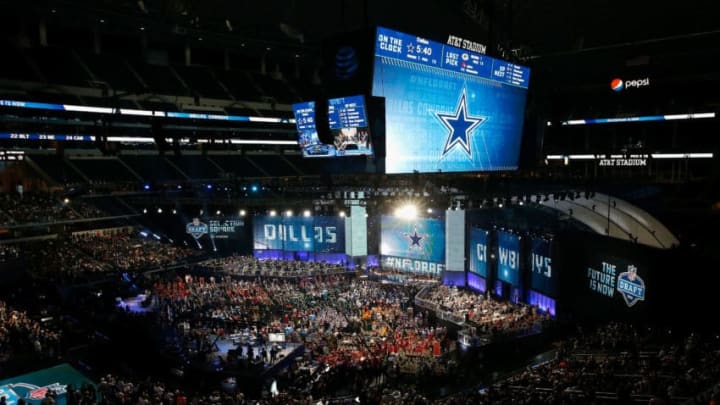 Dallas Cowboys, 2018 NFL Draft (Photo by Tim Warner/Getty Images) /
(Photo by Ronald Martinez/Getty Images) /
The Dallas Cowboys have a lot of holes to fill in the upcoming draft. But, which position should they use they 17th pick on in the 2020 NFL Draft?
The Dallas Cowboys have over 20 free agents that they have to make decisions on this offseason. This is the real reason why they have so much money to spend in free agency, but if they don't go that route for all positions then that first-round pick becomes very important.
So which position will they use the 17th pick on, safety, cornerback, defensive tackle, wide receiver or tight end? Let's go through each giving the pros and cons of each position.
Pros and Cons of a Defensive Tackle at 17

The defensive tackle position is one that was put on the back burner by the former head coach Jason Garrett and the coaching staff when it came to the draft. They only recently decided to use a second-round pick on defensive tackle Trysten Hill last season, but he was only used when players went down with injuries.
Pros
Adding a big body or two to this defensive line should help the Dallas Cowboys run defense. Every season we see the Cowboys defense start to crumble towards the end of the season, and when they do the speedy linebackers aren't able to make plays on the ball carrier.
Those big bodies on the inside would also be able to push the pocket back into the quarterback forcing him into the waiting arms of defensive end DeMarcus Lawrence and possibly Randy Gregory if he returns from suspension next season.
Cons
Taking a defensive tackle that early in the draft should only happen if the rest of the defense is set. Unfortunately for the Cowboys, this defense has a few holes to fill, mainly at safety and cornerback.
It's also easier to find defensive tackles in free agency than early in the draft. So unless the defensive tackle is a generational player like Aaron Donald I can't see the Cowboys going after a defensive tackle with the 17th pick in the 2020 NFL Draft.