How the Dallas Cowboys can repeat as NFC East Champions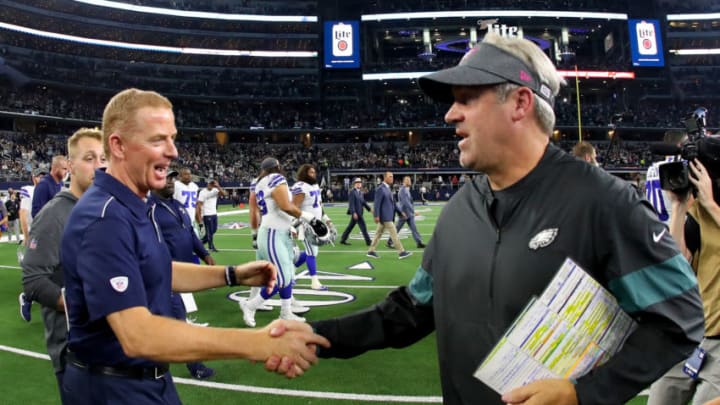 (Photo by Tom Pennington/Getty Images) /
The Dallas Cowboys and Philadelphia Eagles are tied for the NFC East division lead. The Cowboys 2019 playoff chances comes down to the final two games.
The Dallas Cowboys are still in contention to make the playoffs heading into their Week Sixteen match in Philadelphia. Cowboys Nation expected to be in the playoff hunt but likely did not predict the Cowboys and Eagles would sport equally dissatisfying 7-7 records through the first fifteen weeks of the season.
Dallas controls their playoff destiny. The Eagles control theirs as well. Below, let's review the playoff scenarios for both teams.
Cowboys beat Eagles
The Cowboys will win the division of they beat the Eagles on the road this week. The teams could still end up with the same 8-8 records but Dallas would win the first tie-breaker by virtue of their two head to head wins.
Eagles beat Cowboys
Dallas will still have a chance to make the playoffs if they lose to Philadelphia. It would require the Cowboys beating Washington at home and the Eagles losing to the Giants in Week Seventeen.
Both teams would have 8-8 records and the tie-breaking procedure would favor the Cowboys. The second tiebreaker is division record and the Cowboys would have a 5-1 division record which would be better than the 4-2 Eagles.
Of course, in this scenario, if the Eagles tie or win their Week Seventeen game against the Giants, they make the playoffs. The Eagles 9-7 or 8-7-1 record will be better than any possible record for Dallas.
Cowboys and Eagles tie
This unlikely scenario favors the Cowboys making the playoffs thanks to the Cowboys Week Seven win over Philadelphia. However, the division will not be decided until the conclusion of the two  Week Seventeen games.
If Philadelphia loses to the Giants, the Cowboys would make the playoffs regardless of the outcome of the Washington game. If the Eagles tie the Giants, the Cowboys would need to tie or beat Washington and if the Eagles beat the Giants, the Cowboys would need to beat Washington to make the playoffs.
Simple is best
The NFC East can have its first repeat division champion since 2004 when the Eagles won their fourth in a row. A win this week in Philadelphia accomplishes the first Cowboys team goal.