Comparing the Dallas Cowboys WR corps amongst NFC East foes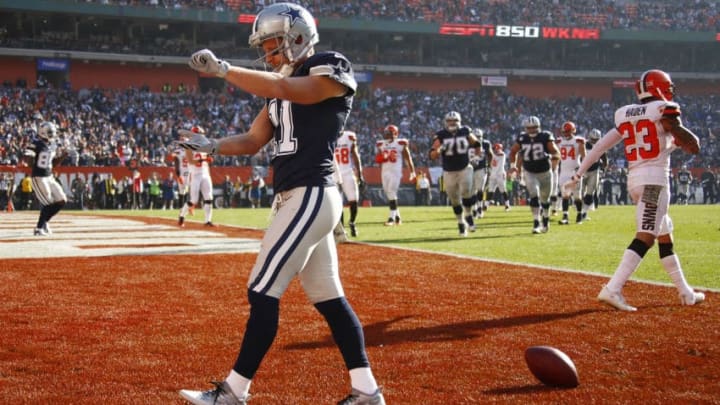 CLEVELAND, OH - NOVEMBER 06: Cole Beasley #11 of the Dallas Cowboys celebrates his 6 yard touchdown catch in the first half against the Cleveland Browns at FirstEnergy Stadium on November 6, 2016 in Cleveland, Ohio. (Photo by Gregory Shamus/Getty Images) /
MIAMI GARDENS, FL – SEPTEMBER 21: Wayne Johnson #14 of the Savannah State Tigers is unable to catch Allen Hurns #1 of the Miami Hurricanes as he runs for a first quarter touchdown on September 21, 2013 at Sun Life Stadium in Miami Gardens, Florida. (Photo by Joel Auerbach/Getty Images) /
In the third installment of our divisional position review, we will examine where the Dallas Cowboys receiving corps ranks amongst NFC East foes.
Welcome to the third installment of my division positional review series. Two previous editions put focus upon the NFC East quarterback and running back positions. Heading into the third review, the Dallas Cowboys currently own the highest score within the division.
Today, we are staying with skill positions but moving to the perimeter. Our focus today will shine light on which NFC East team has best receiving corps. As I'm sure you're aware, this position within the division has experienced some significant change.
Before we get to that, however, let's review how teams earn points towards an overall score. In order to make it both fun and competitive at the same time, the premise is similar to the Olympics.
With four teams in the division, only three can receive medals. As we move along in this review, as they do in the real Olympics, I will keep a running tally of the medal count for each team.
Currently, the leader board has Dallas tied with Washington at four points. Philadelphia is second with three while the Giants bring up the rear at two points.
With that out of the way, let's focus our attention on the volatile position that is the NFC East wide receiving groups. I say volatile because there has been so much change this offseason when it comes to each team's pass catching options. In addition to change, there has been drama which could continue into the season.
So, which team has been able to navigate the storms and rise to the top of the list within the NFC East? Let's start with the team who fails to earn a medal.