Dallas Cowboys have a different kind of Black Friday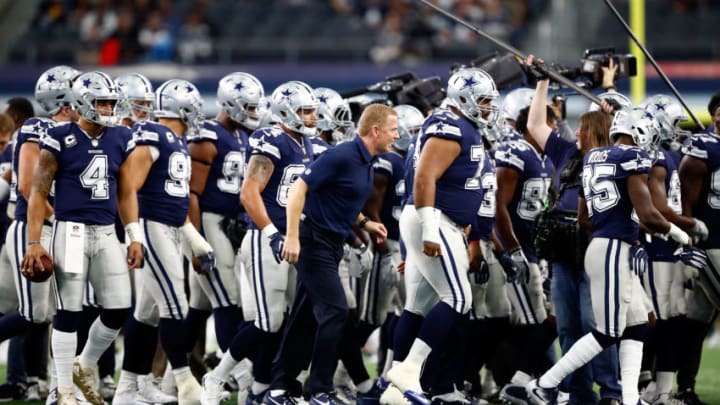 ARLINGTON, TX - NOVEMBER 23: The Dallas Cowboys led by head coach Jason Garrett head back to the locker room after warming up before the game against the Los Angeles Chargers at AT /
For the Dallas Cowboys, Black Friday has a very different meaning following a less-than-competitive effort against a sub-.500 opponent that had no kicker on Thanksgiving Day.
Make no mistake: The Dallas Cowboys are done in 2017, and this is actually a good thing.
For the second time over the last three seasons, the Cowboys are positioned  to choose higher in the NFL draft than they probably should be allowed to. Dallas, with any luck, will peg a top-10 draft selection despite having one of the best rosters in the NFL – again.
Call it Black Friday, but not the same one that may inspire you to break out your credit card at your laptop or stand outside in a long line waiting to enter a store, likely to use that same card.
If Black Friday is about value, this awful 2017 campaign, which I officially dub "2015 II," can launch what could be a monster season in 2018.
To be clear, the Dallas Cowboys can't score so much as a touchdown. It hadn't been since 1999 that the Cowboys were shut out in the first half of a Thanksgiving football game, but '17 saw the same thing. They can't stretch the field or sustain drives.
In fact, this team went 10 quarters without scoring a touchdown for the first time in franchise history. It wasn't until 12:48 in the fourth quarter on Turkey Day that this string of offensive futility came to an end with a short touchdown run by Rod Smith against the San Diego – woops, Los Angeles Chargers.
To put this into better perspective, the Dallas Cowboys went 154 snaps without breaking the goal line. Think about that. Remember then-Indianapolis Colts head coach Jim Mora's infamous "Playoffs?" press conference?
Same thing can be said about these Cowboys – and it's not entirely their fault.
In addition to an offense that's completely deflated without the league's best running back, Ezekiel Elliott, there's also a defense that's still too limited in both talent and numbers. There's youth in the secondary that's growing up quickly and not nearly enough rotational depth along the defensive line.
Yes, it's Black Friday, but not in a bad way. The Dallas Cowboys can arm themselves beginning right now for 2018.
Why not send a message to King Goodell by sitting Dak Prescott for the rest of the year? Let's see if preseason star Cooper Rush can play football and maybe inspire an offseason acquisition at some point in 2018? Let's see how those TV ratings go the rest of the way, no?
Why not just sit Elliott for the rest of the year, thus ensuring that he's rockin' ready to go next season with no injuries to worry about?
Let that offensive line get healed as Tyron Smith and Zack Martin both need it pretty bad. Shelving them for the rest of the year ensures at least a healthy start for next season, which is paramount for this team.
Noah Brown? Let's see if he's a part of the future, even if Prescott isn't playing, right? A 5-11 finish would likely put the Cowboys in the neighborhood of picks 5-8 in the first round of the 2018 NFL Draft at AT&T Stadium next April. It's not like this record hasn't been seen before, either.
Remember those three seasons under former head coach Dave Campo from 2000-2003? Dallas had no first round pick in 2001, but the franchise did select safety Roy Williams with the eighth-overall selection in 2002 and then cornerback Terence Newman with the fifth-overall selection in 2003.
Catch my drift? Between Williams and Newman, there's seven Pro Bowl appearances to reflect on, even if their respective tenures in Big D were shorter than expected.
This defense in Dallas has been shaky at best for long enough. Sean Lee, David Irving, and DeMarcus Lawrence are the top three players on this unit, yet one never really knows when either will be on the field.
Next: Cowboys playoff fate is still very much alive
Time to do some early Christmas shopping for next season, and that means Black Friday is now for a Dallas Cowboys team that could come roaring back in 2018 with a good foundation that has more floors built on top of it. That non-playoff schedule enjoyed in 2014 (12-4) and 2016 (13-3) will help out as well.