It's time for Dez Bryant to dominate an elite corner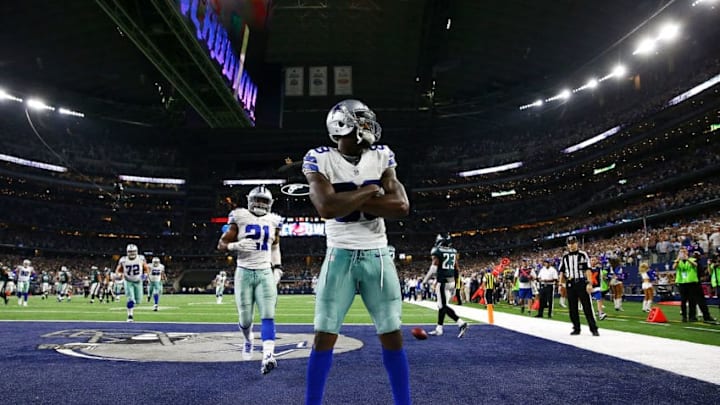 ARLINGTON, TX - OCTOBER 30: Dez Bryant /
Dallas Cowboys star receiver Dez 0Bryant costs more cap money than the three elite corners who've chained him to under 60 yards.
Dallas Cowboys premiere receiver Dez Bryant commands $17 million in 2017 cap space. He'll cost another $16.5 mil in both 2018 and 2019.
Those type of dollars put a player in rare company. Bryant has the second highest cap charge of all NFL wide receivers (and non-QB offensive players).
Texans star receiver DeAndre Hopkins is earning $18 million. Only separated by $1 million, the return on investment gap between them is already taking shape.
D. HOPKINS – 21 catches on 37 targets (57%), 204 yards, 1 touchdown
D. BRYANT – 11 catches on 27 targets (41%), 114 yards, 1 touchdown
Across the field, only one player who covers receivers is more expensive than Bryant. Redskins corner Josh Norman makes $20 million and they face off twice this year.
Bryant's value goes beyond receiving production. He's an excellent run blocker and usually draws added secondary attention to free up other weapons.
However, $17 million demands those secondary virtues in addition to heavy yardage.
Even Dez's past knack for drawing extra attention is dwindling this year. Teams are matching him with their best cover man and rolling the dice, and it's working.
GOING 0 for 3
WEEK ONE
Pro Bowl corner Janoris Jenkins costs the New York Giants $15 million. Which is still $2 million less than Bryant.
In Week 1 he clipped Dez to 2 catches on 9 targets (22%), 43 yards, and no scores.
WEEK TWO
Denver's top corner Aqib Talib kept Bryant under wraps during elevated attempts.
The 4-time Pro Bowler and $9 million corner earned his check. Allowing 7 catches on 16 targets (44%), 59 yards, and 1 TD to an elite receiver is winning.
WEEK THREE
The biggest test came from 6-time Pro Bowler Patrick Peterson. Arizona pays their enforcer $13.7 mil to stifle top receiving threats.
Which is exactly what he did…2 catches on 2 targets, 12 yards, 1 TD. Sure the score was big, but similar production can be found absurdly cheaper.
WHO'S ON DECK
The heavy hitters keep coming this Sunday for Mr. Bryant. Trumaine Johnson may not have any Pro Bowl honors, but he is paid like it.
The Rams' best corner is playing out his second straight franchise tag. Though lacking long-term commitment, his $14 million price tag is elite level.
Even more intriguing is Bryant and Johnson had a publicized trash talking episode during 2015 training camp. The teams also squared off and brawled that day.
FINAL THOUGHTS
Sunday provides a ripe opportunity for Dez to prove he can still bury top corners.
Last week 49ers' receiver Pierre Garcon recorded 142 yards receiving from the "X" spot against the Rams defense. Can Bryant do it from the same exact position?
If 100-yard games don't start appearing regularly against high quality corners, drastic changes are on the horizon.
Dallas may demand a hefty 2018 contract reduction to match the lower tier production. Or an outright release might occur to seek better return on investment.
Rookie Noah Brown (6'2, 225) is built for "X" and is getting playing time for a reason.
Next: Six Dallas Cowboys whose stock is on the rise
It's time for Dez to reach down deep and find his missing extra gear. Demanding elite paychecks requires soundly beating elite players, at least some of the time.