Five biggest takeaways from Dallas Cowboys Week One win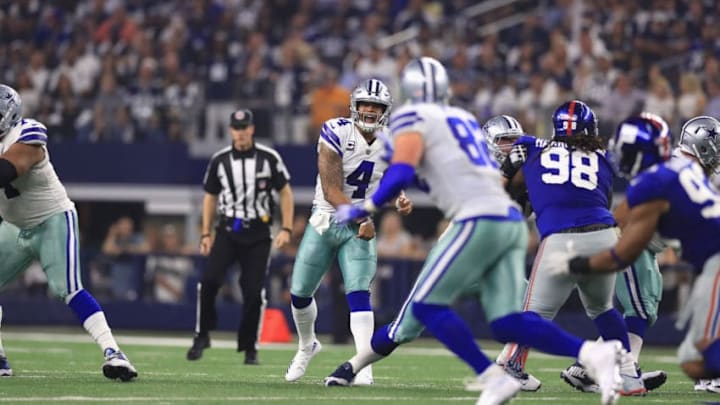 ARLINGTON, TX - SEPTEMBER 10: Dak Prescott /
After exacting a measure of revenge from last season's losses to the New York Giants, here are the five biggest takeaways from Dallas Cowboys Week One win.
The result Sunday night was certainly not what you would have expected but no one will complain about a win.  Just like last year, the Dallas Cowboys offense struggled to complete drives.  Just like last year, the Cowboys could muster only 19 points.
Unlike last year, however, the defense came to play, holding the New York Giants to just three points.
You can choose to diminish the effort by pointing out that the Giants were without Odell Beckham, Jr.  Obviously, that's a big blow to any offense.  I'm just not sure how much of a difference the star receiver would have made, however.
The young, new and (possibly) improved Dallas Cowboys defense looked lively.  There were no major breakdowns in coverage.  The defensive line was a presence all night.  In fact, last time I checked, the Giants don't use Beckham in pass protection.
This night may have been a coming out party for this defense that will only get better when reinforcements arrive.  Remember, the effort on Sunday was sans cornerback Jourdan Lewis and linemen Damontre Moore and David Irving.
I cannot speak enough about the performance the defense gave in this 19-3 victory.  In that light, let's get into the five biggest takeaways from Dallas Cowboys week one win.
The entire offseason chatter was dominated with questions about how this defense, specifically the secondary would fare.  The Cowboys let three starters walk in free agency.  Their two top draft picks missed most of camp due to injury.  To say the jury was out on this unit heading into week one would be an understatement.
Instead the defensive backs turned in a masterful performance.  The Giants were able to complete just two passes over 15 yards.  Anthony Brown had an interception, something Cowboys fans were starving for from anyone sporting a Star on their helmet.  Chidobe Awuzie had the second best opening day performance for any 2017 draftee at his position.  Sure it was just one game but you have to like the direction this squad has started out.
Staying with the defense, here's the obligatory shout out to linebacker Jaylon Smith.  While most will talk about the miracle of his recovery, I'll just stick to performance.  On the field for 68% of the defensive snaps, Smith came up with seven tackles.  Two of those were absolute kill shots.
Obviously there is tons of room for improvement but this was definitely the type of debut this organization was hoping to see.  It is hard to improve when you already boast the best run defense from last season.  Smith is exactly the kind of seek and destroy linebacker to help them keep that status though.
The decision to inactivate running back Darren McFadden in favor of Alfred Morris was curious at best.  The explanation was that Morris showed more in the preseason and earned the opportunity.  Sadly, Morris turned that opportunity into just one yard on four carries.
I'm going to go out on a limb and say McFadden would have done better.  Beyond that, if the reasoning provided is true, than why was Cooper Rush not active over Kellen Moore?  I know it's not a major issue but you have to wonder if there is more to it than what was told.
Speaking of curious decisions, the biggest one deserving the most scrutiny was the play calling on the Cowboys first trip in the red zone.  With first and goal from the three yard line, the Cowboys chose to throw the ball three straight times.  Not so coincidentally, they had to settle for three points instead of six.
It's easier to scrutinize when things don't work out, but you have to give running back Ezekiel Elliott at least one shot there.  Dallas would have put the ball in the end zone with a better throw on one of the passes but that's beside the point.  This team is built to dominate the line of scrimmage.  Hopefully this is not something that will be a trend in future short yardage situations.
Ending on a positive note, you have to like the comfortability and poise quarterback Dak Prescott displayed.  The Giants were his biggest adversary last year.  On Sunday, he seemingly had a lot of answers for their exotic blitz schemes.
His numbers were not jaw-dropping but the 90.5 passer rating was light years better than last year's 69.4 and 45.4 efforts.  Prescott took just one sack and did not turn the ball over while leading Dallas on five drives that produced points.  It is clear to see that he has taken a step forward from an already impressive rookie season.
Those were five biggest takeaways from a dominant victory over perhaps the second best team in the NFC East.  You have to believe that this offense will show improvement in the coming weeks.  If the defense can follow suit or maintain the Sunday performance, 2017 could be awfully fun.
Next: Seven Dallas Cowboys whose stock is on the rise
Next week presents another stiff challenge as the Cowboys take their show on the road to face the Denver Broncos.  Hopefully opening the season against a tough defense will have them battle ready as Denver is perennially amongst the best in the league.