Dallas Cowboys Camp Confidential: New blood at DB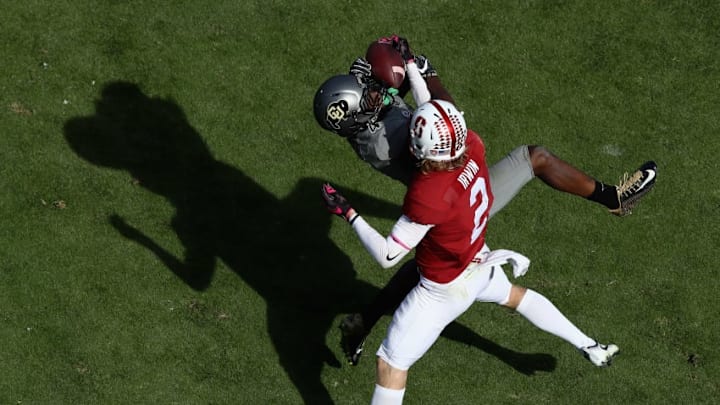 PALO ALTO, CA - OCTOBER 22: Chidobe Awuzie /
With almost an entire week of training camp already complete, we continue to look at some intriguing battles for roster spots with the 2017 Dallas Cowboys.
Once upon a time the Dallas Cowboys could boast that their cornerback group featured a top six overall and a guy who earned a massive $50M contract.
For all of that capital, the results were wildly disappointing. In five years as the starting combination at the position, Morris Claiborne and Brandon Carr totaled just 11 interceptions. While Carr played in every game, Claiborne never put together a full 16-game season.
Whether they played or they didn't, the results were the same; mediocre at best.
The Cowboys finished 26th or worse in passing yards allowed in three of those five seasons. Only once did they allow opposing quarterbacks to finish with a rating worse than 94.
Dallas could have brought back the duo for one more go round but ultimately made the decision that is best to break up. The only decision better than that may be how they have gone about moving on.
The Cowboys did not spend massive amount of money in free agency. They did not sign guys because of the name on the back of their jerseys. Dallas did not even gamble on draft day by trading picks to move up or use a top round pick.
Instead, they signed a free agent that is, at worst, equal to Carr in skill with Nolan Carroll for $2M less. In the draft, Dallas utilized second and third round picks to get younger and faster at a position that favors both youth and speed.  Expect significant playing time from rookies Chidobe Awuzie and Jourdan Lewis.
To accompany these changes, they still have one of the best slot cornerbacks in the game in Orlando Scandrick. They also have Anthony Brown who steadily improved each game during his rookie season and could assume a starting role in 2017.
If that was not enough of an overhaul, Dallas went through a similar change at the safety position as well. Gone is mainstay Barry Church as well as J.J. Wilcox, often a lightning rod for fan scrutiny.
To replace Wilcox, the Cowboys seem intent on giving a more prominent role to internal option Jeff Heath. As for Church, his replacement is budding star Byron Jones.
Pundits and outside observers will likely bemoan the lack of "experience" that the Dallas Cowboys employ in their secondary. I, for one, would prefer raw talent and youthful exuberance, especially when that "experience" isn't productive.
With all the name-dropping that has already occurred in this article, there are still other guys such as second year man Kavon Frazier and rookie sixth-round selection Xavier Woods at safety. Then there is the forgotten man at cornerback, seventh-round pick Marquez White. White earned honorable mention all-ACC honors at a school with a history of producing excellent cornerbacks.
Only time will tell if these changes made in the Cowboys secondary are for the better. Regardless of how it pans out, you have to give the team credit for their approach. I'm confident that you will see some of the best secondary play you've seen in years, however.
Next: The all-time best defenders to wear the Star
This group may not come with all the pomp and circumstance but there is talent and depth. Who makes the final 53-man roster from this group will be one of the more interesting things to watch in training camp.