Dallas Cowboys: Is AT&T Stadium finally a home field advantage?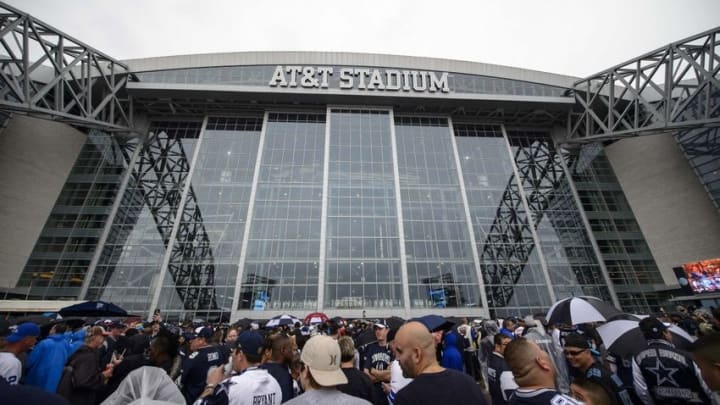 Nov 26, 2015; Arlington, TX, USA; A view of the stadium and fans before the game between the Dallas Cowboys and the Carolina Panthers on Thanksgiving at AT&T Stadium. Mandatory Credit: Jerome Miron-USA TODAY Sports /
Is the Dallas Cowboys home, AT&T Stadium in Arlington Texas, now considered a real home field advantage? They'll find out this Sunday.
The Dallas Cowboys will finally have a chance to use the home field advantage they earned with a 13-3 season ending record this season. And it starts with America's Team enjoying the challenge of being in another iconic playoff game facing the Green Bay Packers. And their historic franchise is lead by arguably one of the National Football League's most efficient quarterbacks in Aaron Rodgers.
Currently, there is no other quarterback in the NFL whose name has become more synonymous with the Hail Mary Pass than Rodgers. Ironically, the pass itself is named such after the great Cowboys Hall of Fame quarterback Roger Staubach made the term famous with his game-winning touchdown pass to fellow Ring of Honor wide receiver Drew Pearson in their December 1975 playoff victory over the Minnesota Vikings.
Make no mistake about this one, it will be a game for the ages. Especially since the Cowboys and Packers last playoff meeting at Lambeau Field back in 2014 sparked the controversial catch – no catch debate.
This is a very intriguing playoff match-up indeed, as the Packers have to feel good about themselves as a winning wild card team. Now they'll face the Cowboys, a team they have successfully handled six out of six times since Dallas' opened AT&T Stadium back in 2009.
That was until this year's regular season matchup, in which the Cowboys' victory over the Packers was orchestrated by the outstanding play of Dallas' dynamic rookie duo. Dak Prescott has been a phenomena at quarterback this season, while Ezekiel Elliott is the 2016 NFL rushing champion in his very first year as a pro.
The Cowboys have had exactly 64 home games at AT&T Stadium since it opened. And they have a record of 34 wins and 30 losses at their beloved stadium. Moreover, compared to other NFL venues such as Lambeau, Gillette, Heinz, Century Link, Arrowhead, et cetera; some would say Dallas does not have a home field advantage.
In part, I would agree. But only to a certain extent. The dynamics of winning at any level is comprised of more than a stadium itself. It's a combination of ownership, coaches, players, support personnel, emotion, and an insatiable passion exhibited by fans alike. But most importantly, it also includes something that is not measurable and can't even be seen. It's called psychological momentum.
It's not quantifiable. It can swing from one point to another depending on the situational dynamics of any team. In short, for those who believe, they call it karma. It means your destiny is earned by way of your actions and or behavior.
So with that said, if there is another catch – no catch or a similar play that this time sways the momentum toward AT&T Stadium and the Cowboys, does it then become that vaunted perpetual home field advantage that winning teams are perceived or known for?
One thing is for sure. The fans and the players shall be pumped up for this one. It was Cowboys future Hall of Fame tight end Jason Witten who stated that the influx of some of these dynamic rookies has brought on a new energy to the team, which has been infectious for veterans like him.
Next: The top 10 Dallas Cowboys to never win a Super Bowl
To me, it sounds like "Old Mo" i.e., momentum started at the beginning of the 2016 season. But don't just take my word for it. Contribute to it by keeping it going this weekend as the rivalry continues when the Cowboys and Packers meet at AT&T Stadium in for the first time in a playoff game on Sunday.