Dallas Cowboys have a chance to eliminate any doubt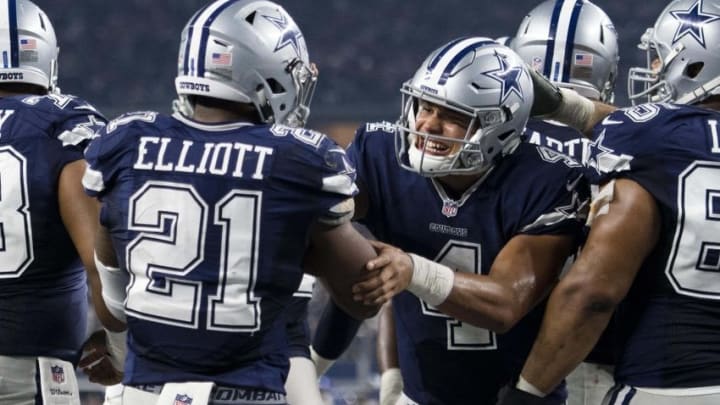 Nov 24, 2016; Arlington, TX, USA; Dallas Cowboys running back Ezekiel Elliott (21) and quarterback Dak Prescott (4) celebrate Elliott /
A statement win against the Minnesota Vikings and their elite defense would make it difficult for skeptics to question the legitimacy of the Dallas Cowboys.
The Dallas Cowboys (10-1) have started this season off in historic fashion, winning 10 consecutive regular season games for the first time in franchise history.
Current and former players, including Super Bowl winning players, all recognize that what the Dallas Cowboys are doing is special.
""I think you all know something magical is happening to our team"- Tony Romo told DallasCowboys.com"Nobody's beating the Cowboys at home. If they get home field through the playoffs, they will at least get to that Super Bowl"- Michael Irvin per Jon Machota via Twitter"
Yet there are still doubters, football fans that are in disbelief that the Cowboys are legitimate contenders not only in the future, but this season.
They will tell you that "Dallas hasn't played anyone", or they will tell you to look up the combined win and loss record of opponents.
The doubters will try to convince you that this team is too young, that a rookie quarterback and rookie running back will crumble in crunch time when the playoffs get here. After all, no rookie quarterback has ever started in the Super Bowl.
These same naysayers have been saying things since training camp and preseason.
" Zeke was great in college, but let's see how he translates to the NFL (insert Trent Richardson example as an excuse for doubting Zeke) before we consider him a top-level running back."- These people are eating proverbial crow already as Zeke is the NFL's leading rusher and is a MVP candidate at this point in the season.
"Dak Prescott has looked great in preseason, but defenses aren't game planning to stop him. When the regular season starts he will come back down to Earth."- Well, 11 games have come and gone and Dak has yet to recognize the theory of gravity. Looks like we have a space cowboy on our hands.
Elliott and Prescott have had tremendous success through the first part of their careers because they joined the team and instantly bought in to the culture.
More from The Landry Hat
They are the type of players that the Dallas Cowboys want. It is encoded in their DNA to show up, work hard, compete, and prepare the right way.
Combining that with gifted athletic ability and a hunger to win has presented both of these superstars in the making a special opportunity.
But it isn't just the two rookies in the backfield that have taken to the culture that head coach Jason Garrett has spent six plus seasons trying to build. It is everyone. The staff, the coaches, the entire roster.
They are playing team first football.
Dallas Cowboys players show up to all practices, film study, and meetings with enthusiasm. Players are hungry to prepare so they can better execute their individual assignments which will ultimately help the team.
Yet here we are, Week 13 in the 2016 season and despite having 11 games and 10 consecutive victories to use as a reference, doubters are still finding ways to discredit the Cowboys.
Dallas is traveling to face an elite defense in the Minnesota Vikings (6-5), ranked third in total yards allowed.
The Vikings are ranked fourth in passing yards allowed and 14th in rushing yards allowed per game.
Minnesota is also ranked second in the NFL in points allowed per game (17.5).
The Vikings are desperate to stay in the NFC North division title hunt after losing four out of their last five games. A loss would make it extremely difficult for them to earn a wildcard berth as well.
This is a game that could be classified as a "trap game" for the Dallas Cowboys.
They could be worn out- they have played several physical and competitive games since their bye week and this is their third game in just 12 days.
They could seem complacent, having run a 10 game gauntlet without having a humbling defeat.
In fact, ESPN's football index has Minnesota as the favorite to win the game.
So, Cowboys fans. Here it is. Another improbable challenge for this team to overcome.
Next: Can the Dallas Cowboys Defense win a Super Bowl?
The doubters and non-believers are geared up to rub it in Cowboys Nation's face if Dallas falls short this week.
But a convincing victory (the 11th straight), on the road, in December, in a prime time game against an elite defense…that could finally be the straw that breaks the critics' backs.