Dallas Cowboys must take advantage of opportunity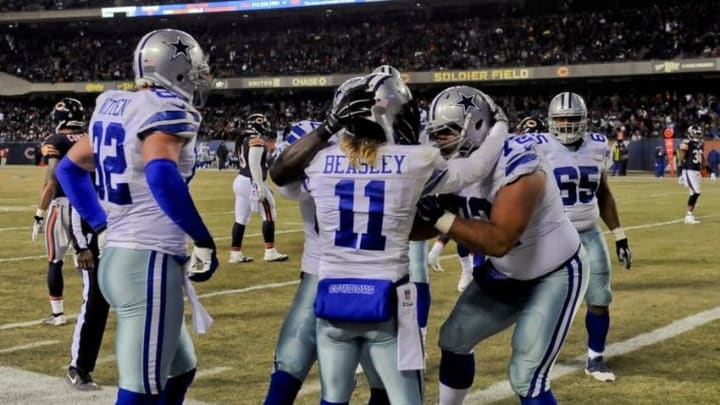 Dec 4, 2014; Chicago, IL, USA; Dallas Cowboys wide receiver Cole Beasley (11) celebrates with teammates after he scores a touchdown in the second half of their game against the Chicago Bears at Soldier Field. The Cowboys won 41-28. Mandatory Credit: Matt Marton-USA TODAY Sports /
Facing a team that is beset by injuries, the Dallas Cowboys must take advantage of an opportunity to win a game at home against a team they should beat.
It is not often that teams have the type of opportunity that the Dallas Cowboys have tonight.
Looking at the Chicago Bears roster, there are many key contributors likely to be missing in action.
Quarterback Jay Cutler, running back Ka'Deem Carey, defensive tackle Eddie Goldman, linebackers Lamarr Houston and Danny Trevathan and defensive backs Bryce Callahan and Adrian Amos are all doubtful or out.
The Bears are void of talent in the first place.  Few expect Chicago to be in the mix for a playoff spot in 2016.  Playing without seven guys on the road against a good team is not going to change that.
Now, the Dallas Cowboys are not without their own injuries as well.
Obviously, quarterback Tony Romo is missing.  Cornerback Orlando Scandrick will be a game-time decision, likely not to play after missing practice all week.  Left tackle Tyron Smith is also battling a stiff back as well as a stinger.
For the most part, however, the Cowboys are fairly healthy.
That's a key advantage in the Dallas Cowboys favor.
Another advantage, at least you might assume, is that Dallas is playing in front of their home crowd.  Dig a little deeper, however, and that might not be very much of an advantage.
Unfortunately for the Cowboys, they have not won a home game without #9 taking snaps from the center since December 19, 2010.
Their last home win, period, was opening night in 2015.
In fact, you would have to go all the way back to Thanksgiving of 2004 to find the last home win at the Bears expense.
There is good news for fans of the Star though.  Under head coach Jason Garrett, the Dallas Cowboys usually take care of business against "bad" teams at home.
Throwing out last year, from 2011-2014, the Cowboys have played ten games against teams that won six games or less during the season at AT&T Stadium.  Dallas is 9-1 in those games.  In four of those games, the Cowboys won by double-digits.
The Bears have not won more than six games in two straight seasons.  I think it's fair to project them as a team destined to win six or fewer games again this season.
So, what do the Cowboys need to do to make that record 10-1 against bad teams at home?
The simple answer is to not be complacent.
More from The Landry Hat
Thankfully, this team is in no position to do so, largely due to their failures at home.  Those ghastly performances of late in the "Jones Mahal" are a perfect reminder that no team can be taken lightly.
Another good reason to forget any thoughts of complacency would be how poorly this supposed "high-powered" offense has performed.
Everyone, even without Romo, expected this team to be capable of dominating in the run game.  That has yet to happen.  Rookie running back Ezekiel Elliott is averaging just 3.3 yards per carry.  Backup Alfred Morris is not doing much better, averaging 3.5 yards on 12 carries.
It's not only the running attack that has been less than stellar.  Rookie quarterback Dak Prescott still has not thrown a touchdown pass.  The Cowboys are dead square in the middle of the pack in comparison to the rest of the league when it comes to points per game.
Defensively, while the results have been mostly acceptable, there are still some areas that need serious improvement.  Largely, the propensity to give up big plays is casting a pall on how well this defense could be playing.
Big plays are categorized as rushing plays that are over 10 yards and passing plays that are over 25 yards.
Dallas has allowed 13 of these types of plays in just two games.  Only the Raiders, Jets and Bills have allowed more.  Somehow, the Cowboys are the only one of these four teams to not allow 30 points in a game.
That type of luck will not continue if the big plays keep coming.
I feel confident that Garrett and the rest of the coaching staff will have the team in the right mental mindset.  As long as the Cowboys protect the football, it's hard to see how they lose this contest.  Look for the dominance against bad teams to continue.
Next: Dallas Cowboys will not rush Tony Romo back
The prediction:
Bears 17, Cowboys 34