Dallas Cowboys win divisional road game despite coaching flaws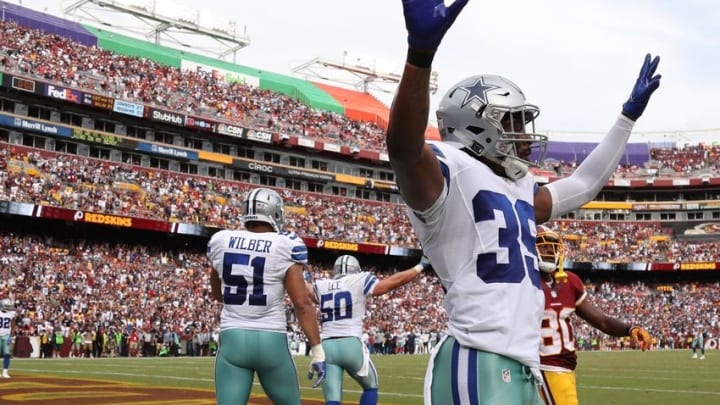 Sep 18, 2016; Landover, MD, USA; Dallas Cowboys cornerback Brandon Carr (39) celebrates after the Cowboys /
Despite several questionable calls by the coaching staff, the Dallas Cowboys were able to find a way to win a road game against their divisional-rival Washington Redskins on Sunday.
Wow, these Dallas Cowboys sure know how to take things down to the last second. After losing to the New York Giants last week on the last second of the game, it took to the final play this week to put away the Redskins. Despite many things in this game not going their way, this young team found a way to win.
Young quarterback Dak Prescott, and rookie running back Ezekiel Elliott were able to taste their first NFL victory, while veterans such as linebacker Sean Lee, and tight end Jason Witten were able to earn a hard fought road win without longtime quarterback Tony Romo. Good for them all!
While Prescott looked seasoned beyond-his-years, and the other players on the team made just enough plays to win, the coaching staff was out-coached much of the game. Head coach Jason Garrett and his staff made several questionable decisions, and they had the ball bounce their way just enough this week to obtain victory.
I could breakdown several plays where Garrett seemed to be clueless on the sideline, but I am going to narrow it down to a few things that really should be alarming to Cowboys fans.
#1. Garrett and company had no business kicking that on-sides kick after taking the lead in the third quarter. That backfired and cost the team the lead and put even more pressure on an already depleted defense. Garrett needs to elect to kick that ball into the end-zone and let the defense grind and have the length of the field as their ally.
#2. Non-challenge on 2nd down "reception" for Crowder in the 4th quarter. Near the end of the game, the Redskins completed a pass to their wide receiver that clearly hit the ground, but the officials ruled it a catch.
Sean Lee was able to blow the next play up in the backfield to spot momentum, but the Redskins easily converted on 4th down and were able to keep their slim hopes alive. There was no excuse to not challenge the play and help your defense with a break at that point of the game. Garrett was fortunate that didn't come back to haunt him.
More from The Landry Hat
#3. Playing not-to-lose the game nearly cost them the victory. When Kirk Cousins dropped back and dumped a ball off to his running back and he jetted past Sean Lee for what looked like was going to be a long touchdown, it went through all Cowboys fans' minds. They never should have had to punt back to Washington!
Sometimes in the NFL it is better to play to win the game and take shots, rather than be conservative and hope not to make the critical mistake. It appears to me that Garrett is coaching conservatively, and that is not good news for the Cowboys.
With all that being said, not all was bad for the Cowboys. Like I had previously mentioned, Prescott looks like a seasoned veteran. Not a rookie making only his second career start. He posted a 103.8 quarterback rating, and completed nearly 75% of his passes.
Elliott improved greatly over his first career game and showed some flashes of the guy we all saw at Ohio State. Wide receiver Dez Bryant will not be criticized this week as he was involved early-and-often as he caught 7 passes for over 100 yards.
The much-maligned defense also was able to hold the ship together and help this team get a win. While looking completely over-matched throughout the game, the defense was able to get a key turnover when safety Barry Church caught an interception after Elliott's fumbled earlier in that quarter.
This one play allowed Dallas to take a 4 point lead after their next touchdown and put Washington in a position where they needed a touchdown to win the game. Credit is due for the entire unit that banded together to get the job done, even if it was ugly most of the time.
Next: Cowboys defeat Redskins - Five Initial Post-Game Thoughts
This young team has been exciting so far this year, and Dallas still appears to have struck gold with Prescott. All of the positives are great, and the season is still young and many things are yet to come. If the Cowboys hope to keep winning, though, they will need a better effort from their head coach and his staff.