The Cowboys Wide Receiver battle that's off the radar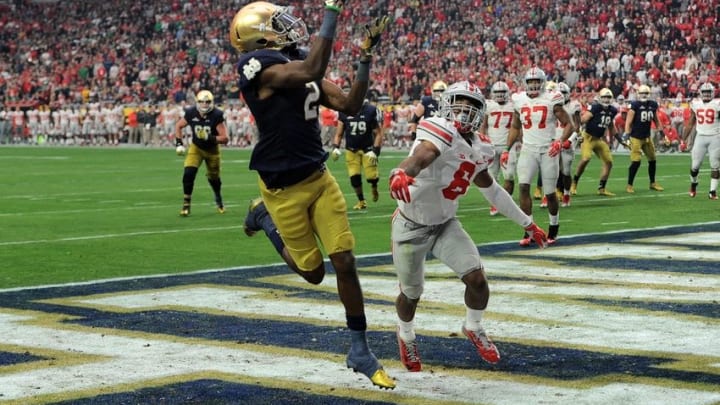 Jan 1, 2016; Glendale, AZ, USA; Notre Dame Fighting Irish wide receiver Chris Brown (2) catches a touchdown pass against Ohio State Buckeyes cornerback Gareon Conley (8) during the second half of the 2016 Fiesta Bowl at University of Phoenix Stadium. Mandatory Credit: Joe Camporeale-USA TODAY Sports /
Due to an influx of talented undrafted rookie free agents, the Dallas Cowboys battles at the wide receiver position will be interesting this offseason.
The Dallas Cowboys' three day rookie mini-camp is in the books. While it's okay to question some of their draft day decisions, Cowboy Nation should be happy with the new players attempting to make the roster.
Like an ice cube tray, the roster has a fixed number of places. To determine who stays or goes, I like to look at player overlap and I see one battle that isn't talked about much.
A few years ago, wide receiver Dez Bryant was injured and the outside receiver role went to current New York Giant Dwayne Harris. It seemed that a battle for the slot position was occurring between Harris, drafted in the sixth round by the Cowboys and undrafted free agent Cole Beasley.
Eventually, the Cowboys drafted Terrence Williams and gifted him the number two receiver spot. They allowed Harris to leave in free agency and awarded Beasley with a 4 year, $13.6 million dollar contract with a $4 million dollar signing bonus.
I understand that Beasley is a fan favorite and he's productive on the field, but perhaps the front office acted too soon. With last year's horrific backup quarterback play – with the exception of Kellen Moore – Beasley contributed 52 receptions on 75 targets for 536 yards and 5 touchdowns. All of these numbers are career highs and Bryant wasn't on the field to grab the attention of opposing defenses.
Now Lucky Whitehead has a year under his belt and I expect him to have a bigger role in the offense. Mainly, any catch on the defensive side of the line of scrimmage would be huge. Whitehead had 6 receptions for 16 yards. It would be a stretch to ask him to replace Beasley's numbers, but it's possible for him to fill Beasley's role if he's did his off-season homework.
Beasley's value comes from seeing the field with Tony Romo's eyes. When they look at the defense, Beasley knows if he should break right and Romo knows Beasley will break right. The word for that is – chemistry – and perhaps chemistry is worth a $4 million dollar signing bonus. Yet, I see an identical, yet more affordable, receiver in Whitehead, if he's gotten better at his craft.
2016 Dallas Cowboys Off-Season Wide Receivers

Name

Age

Height

Weight

Cole Beasley

27

5′ 8"

177

Lucky Whitehead

23

5′ 10"

183

Ed Eagan

22

5′ 10"

188

Andy Jones

21

6′ 1"

213

Chris Brown

22

6′ 2"

194

Terrence Williams

26

6′ 2"

208

Dez Bryant

27

6′ 2"

220

Vince Mayle

24

6′ 2"

224

Devin Street

25

6′ 3"

198

Brice Butler

26

6′ 3"

205

Rodney Smith

26

6′ 4"

219
As I put this list together, I have a new guy to watch – rookie Ed Eagan – from Northwestern State. I haven't watched him play, but he looks good on his highlight tape as a wide receiver and a returner on special teams. Of course, everyone is supposed to look good on a highlight tape.
Everyone is talking about Devin Street being kicked to the curb. But I can see Eagan, Andy Jones and Chris Brown replacing Whitehead, Brice Butler and Street on the roster. Competition is king at Valley Ranch, the best man usually wins. It doesn't hurt to apply my younger, stronger, faster, smarter, healthier and cheaper (I'm still working on that acronym) to the roster selection process – never forget, this is a business.
#EarnYourStar
#GoCowboys
Find me at Facebook.com/CowboysRob
Next: Five Dallas Cowboys who must step up in 2016
Thank you for reading the above article. It's our sincere hope you'll visit our site often as we work really hard to provide Cowboys fans with fresh, daily content about their favorite team. Please feel free to take part in further discussions about this topic below in our comment section. All we ask is that each participant is respectful in both their responses and towards others. Thanks again and…Go Cowboys!