Cowboys awarded four compensatory draft picks; Defensive focus?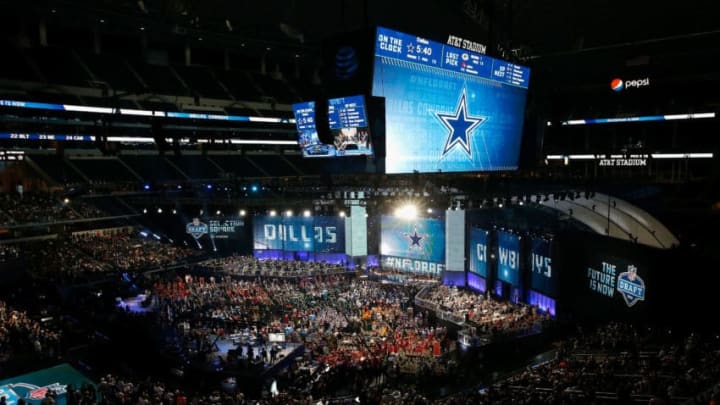 Dallas Cowboys, 2018 NFL Draft (Photo by Tim Warner/Getty Images) /
The Dallas Cowboys held a press conference on Wednesday to announce the signing of their quarterback, Dak Prescott, to a new four-year deal worth up to a whopping $164 million. With the 27-year old passer now taking up a good portion of the dwindling salary cap pie, how the Cowboys will address their roster needs, particularly on the defensive side of the ball, is a major concern.
The solution will likely be found in the upcoming NFL draft. And now, the league has given the Cowboys a lot more draft ammunition to quickly upgrade their team through the annual college selection event.
According to ESPN NFL Insider Adam Schefter, the Cowboys have been awarded four additional compensatory selections in the 2021 NFL Draft. That's due in large part to the massive amount of free agents Dallas lost to other teams this time last year. Former players like Pro Bowl cornerback Byron Jones, defensive end Robert Quinn, and wide receiver Randall Cobb.
The Cowboys were awarded additional draft picks in the third round (99th overall), the fourth round (139th), the fifth round (179th), and the sixth round (227th). Dallas enters the 2021 draft also possessing the 10th overall selection.
It's ironic that Prescott's future with the Cowboys was secured the same week that compensatory draft selections were announced. Dak himself was selected in the fourth round of the 2016 NFL Draft with a compensatory pick, 135th overall, out of Mississippi State. Prescott would go on to win the NFC Offensive Rookie of the Year award and lead the Cowboys to a 13-3 record in his first season as a professional.
With a plethora of draft picks to make in April, including six selections in the first four rounds, the Dallas Cowboys can easily address their defensive issues with numerous young, talented prospects. And while the organization may still bring in a few modest free agents to fill voids on their roster, it's clear the Cowboys prefer to build their team through the draft.