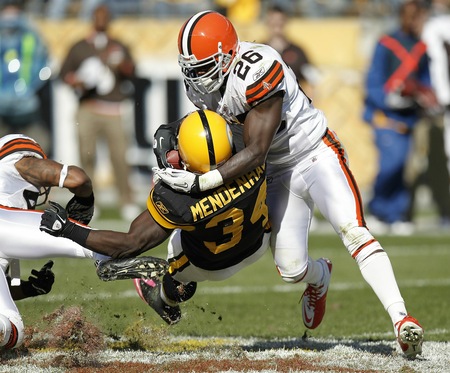 With multiple reports that the NFL lockout is on it's way to being over in the next few weeks, we can now comfortably look forward to the free agency period and which potential players will end up on the Cowboys roster.
It seems almost certain that Jerry Jones will target a safety for Dallas during free agency. In fact, a report specifically indicated that Jones would target a veteran safety.
There are two names at the position that have been mentioned as possibilities for the team. Michel Huff seems to be a fan-favorite to sign with the 'Boys mainly in part due to his recognizable name.
The second name that makes sense is Abram Elam, who previously played for the Cowboys. Not only did Elam play for Dallas before but, like Huff, he has experience under new defensive coordinator Rob Ryan. ESPN's Todd Archer makes it clear that Elam would be his choice.
Here are statistical comparisons of Elam and Huff, thanks to Archer:
Elam (15 starts) – 77 tackles, two sacks, two interceptions, 10 pass deflections, two forced fumbles, 2 fumble recoveries

Huff (16 starts) – 84 tackles, four sacks, three interceptions, seven pass deflections, three forced fumbles
After the closer examination, Elam does seem like the best option. He will likely be the cheaper option and has first hand experience in the Cowboys organization. His ability to contribute on special teams and the previous work with Rob Ryan makes him the logical and very reasonable fit.
What free agent safety would you like on Cowboys?
Tags: Abram Elam Cowboys Cowboys Safety Dallas Cowboys Free Agent Michael Huff NFL