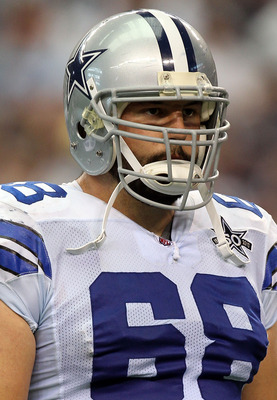 The Dallas Cowboys offensive line has been atrocious the past few seasons, which resulted in the team drafting Southern Cal offensive tackle Tyron Smith with their first round pick. Smith is expected to start his career at right tackle while he develops, which seems like the only reasonable decision — especially with a top tier player at left tackle.
Yes, that's right. Doug Free of the Dallas Cowboys is a top tier offensive tackle.
Cowboys fans have known that Free is a standout among the offensive unit, and now ESPN bloggers have given Free the kudos that he deserves. Free did not make the list of ESPN's top ten offensive tackles, but he did receive two votes and was an honorable mention.
NFC North blogger Kevin Seifert and AFC East blogger Tim Graham are the two who voted for Free in the top ten. Seifert ranked Free at 9, while Graham thought slightly higher of the offensive tackle and ranked him at the 8 spot.
It is nice to see Free's name start to present itself in the public spotlight. He has been a pleasant surprise and only continues to impress. If Tyron Smith can develop, he and Free could become a dynamic duo on the ends of the Dallas line.
You can CLICK HERE to see the entire list and voting breakdown of ESPN's top ten offensive tackles.
Tags: Dallas Cowboys Doug Fre Doug Free NFL Nfl Offensive Tackles Top Nfl Tackles