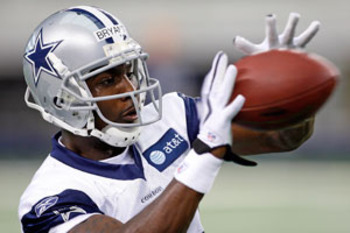 Sensational Cowboys wide receiver Dez Bryant had his rookie campaign come screeching to an abrupt stop when he suffered a broken ankle. According to Bryant, his ankle rehab is going well and everyone should be optimistic for his full recovery.
"My rehab is fine," Bryant said. "I've been hearing a lot of stories about how Michael Irvin came off his ACL [in 1989] and how he was so ready to get back out there. I kinda feel the same way, that's where my mindset is. His story motivates me so much of getting back out there [it] just makes me want to work hard and that's what I'm doing each and every day.
"Not running full speed, jogging a little bit on a treadmill and just taking this process slow," said Bryant. "I give it another month."

One man who has helped Bryant with his recovery is new strength and conditioning coach, Mike Woicik. Woicik helped Miachel Irvin with his recovery and has provided Bryant with some unique insight. Bryant and Woicik have really seemed to click, which will be a great relationship.
"I felt like the day that I met him and the conversation that we had, I felt like we clicked right then and there," Bryant said. "I love working with him and I feel like he really wants to me to get better and he's helping me with my rehab and we're going strong every day."
Hopefully Bryant will continue his relationship with Woicik and spend some extra time in the weight room to become even better than he already is. Bryant can be a special player and getting close to a guy like Woicik will only help his development.
Tags: Dez Bryant Dez Bryant Ankle Dez Bryant Rehab Injury Mike Woicik NFL The Landry Hat