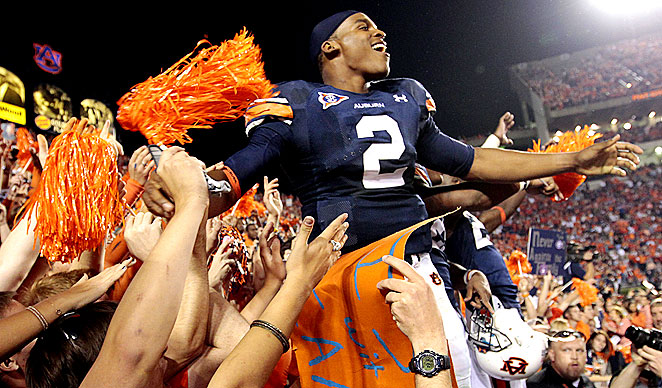 The Cowboys will start to put up some smoke screens, but also hint at players they are interested in selecting in the upcoming NFL Draft. At the NFL Scouting Combine, teams interview players and do their homework on players who could potentially be putting on their uniforms next year.
One player that the Cowboys have focused on early at the combine is controversial Auburn quarterback Cam Newton. Newton's hype train is rolling and his draft stock has been skyrocketing as a result. Newton has a lot of baggage and has made some comments the last few days that really make you question his intelligence.
So, could the Cowboys really be considering Newton?

"I wouldn't dismiss any player that's going to be in that draft and wouldn't express interest. So much happens with the circumstances that are there, not only on draft day but how we continue our process. But I do feel like we're in really top shape. . . . I'm going to really say outstanding shape at the position. Obviously, a quarterback to draft right now is a future consideration. For that reason, I wouldn't dismiss him or any position," said Jerry Jones.
Jerry says the team will obviously consider him, but if we have learned from his comments in the past I think it is safe to say the Cowboys are just doing their homework. Not only will Newton likely be off the board before the ninth pick, but the Cowboys have too many other glaring needs to throw their first round pick away at a quarterback with high bust potential.
Personally, I would be furious if the team wasted a pick on Newton. Newton is interested in becoming an "icon and entertainer" more than he is a NFL quarterback. He would get eaten up in the Cowboys atmosphere. With Newton's past problems and present attitude, I would completely remove him from my draft board.
Should Dallas consider Newton or do you want the team to stay as far away from him as possible?
Tags: 2011 NFL Draft Cam Newton Combine Cowboys Dallas Cowboys NFL NFL Draft NFL Scouting Combine Quarterback