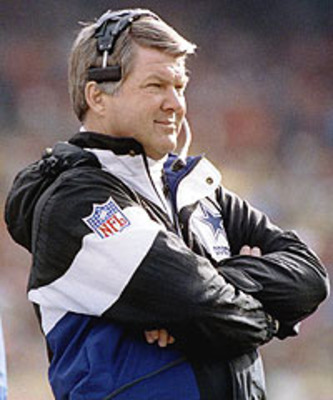 Troy Aikman did a lot for the Cowboys during his time with the team. He quarterbacked the Cowboys to three Super Bowl Championships and was a member of "The Triplets" along with fellow Hall of Famers Emmitt Smith and Michael Irvin. All three players are members of the Cowboys Ring Of Honor, and Aikman would like their coach to be a part of the group, too.
"If I'm in it, if Michael Irvin is in it, if Emmitt Smith is in it, Jimmy should be there," he said. "You can't tell my story or the others' stories without Jimmy."
Only one coach is in the Ring of Honor, and that is the great Tom Landry.
Johnson and Jerry Jones had a rough relationship that ultimately led to Johnson's departure from the team and that is what Aikman seems to believe is holding his former coach's induction into the Ring of Honor back. Aikman made it very clear that he is not trying to pressure Jerry Jones into making a decision, he's just looking out for his coach.
"I know Jimmy's day will come," Aikman said.
Tags: Cowboys Cowboys Ring Of Honor Dallas Cowboys Jimmy Johnson NFL Ring Of Honor Troy Aikman