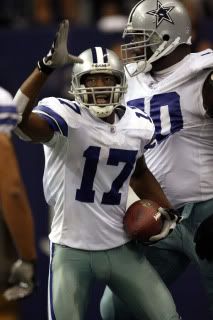 Thanks to unfortunate injuries to rookie wide receiver Dez Bryant and Kevin Ogletree, the Dallas Cowboys are counting on Sam Hurd to step up and fill in the number three receiver spot.
"I want to fill that void to make sure we don't lose a step," Hurd said. "You want to know people are counting on you and you want to make sure you're reliable for the rest of the team. I don't look at that as a bad thing. I know my job. I know my role and I know the team is bigger than me. Whatever they ask me to do I'll go do it."
The special teams captain is a solid option to fill in the role. Hurd also has a nose for the first-down marker. Thirty of his 39 career receptions have resulted in moving the chains.
Tags: Cowboys Dallas Cowboys NFL Sam Hurd Special Teams Captain Wide Receivers