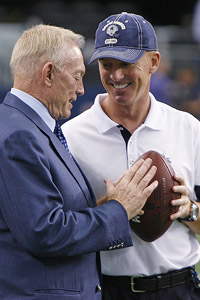 In 2003, the NFL established the Rooney Rule which requires NFL teams to interview at least one minority coach for vacant head coaching and front-office positions. The rule states:
Once the season is concluded, the head coaching position must be considered open and the club must fill the position in accordance with the interviewing guidelines. No club may make a commitment to a coach retained during the season that extends beyond the end of the club's playing season. Any contract that seeks to make such a commitment will not be approved. This in no way prevents a club from ultimately hiring the interim coach on a full-time basis after fulfilling the interview process requirements.
However, it seems that Jerry Jones has other plans…
Jones has an interim coach in place with Jason Garrett, but if he plans on keeping Garrett after the season he would be in violation of the league's Rooney Rule. Unless, of course, he first interviews a minority candidate. However, Jones is considering seeking exemption from the rule.
"There are some extenuating circumstances that are involved here," Jones said, according to Tim MacMahon of ESPN Dallas. "On my decision and how we make it, I'll have the opportunity to present that to the league, so we'll see how that goes. But I really can't give you any type of answer there because I'm not so sure I'm through working the process."
This tells me two things.
1. Jerry Jones doesn't think the rules apply to him. Many coaches have named interim coaches and still satisfied the Rooney Rule after the season.
2. Jones is strongly considering keeping Jason Garrett. If he is already drumming up a plan to seek exemption, it means the thought to keep him interim coach has at least crossed his mind.
I have a hard time believing that Jones would be granted exemption. This case would be no different than many cases before him. As for keeping Garrett, I have no problem if Jerry decides to keep him if Garrett continues to successfully motivate the team. The Cowboys don't really need a big name coach… they just need a good one.
Tags: Dallas Cowboys Head Coach Interim Coach Jason Garrett Jerry Jones NFL Rooney Rule