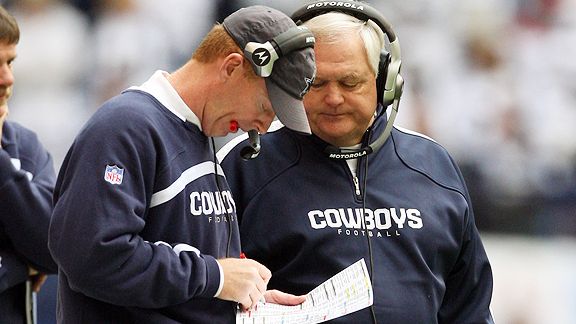 It started in 2007 when Jerry Jones hired offensive coordinator Jason Garrett before he went on to appoint Wade Phillips as the Cowboys head coach. We knew then that with Garrett in the wings Phillips would have to return the team to glory or else be replaced by the young offensive mind.
Here we are three years later. Same team loaded with talent, but underachieving and lackluster coaching. Garrett was promoted to assistant head coach, but it is clear that the team has co-head coaches. This has caused a disconnect between the offensive and defensive sides of the ball.
We've gone from having Phillips and Garrett to having "Son of a Bum" and "Brain Dead Red."
Phillips as the head coach should show interest in all aspects of the team, yet he takes every opportunity to distance himself from the offensive side of the ball. It is even said by people high up in the Cowboys organization that Phillips prefers to win games 10-6 in a defensive struggle so he can take the glory — Ed Werder reported that his "sources" have confirmed this.
That is were we have trouble in Dallas. The coaching staff is a ticking time bomb.
With little communication and no real head honcho, we run into situations like we did at the end of the first half in Washington. That was Phillips time to take his power as head coach to tell Garrett, "Take a knee. Don't do anything stupid." That never took place as Phillips was not paying attention and on the head set with other defensive coaches. What was the result? Garrett went for it all and a Tashard Choice fumble was taken to the house putting the Cowboys behind entering the half.
This is completely unacceptable from a coaches stand point and both men should be held accountable. Phillips and Garrett need to get on the same page instantly or the team will have no success.
You can't have two head coaches on a team. You can't have the defensive guy showing no interest in the offense and in fact undermining the unit. The disconnect on the staff will only bring us the same result… one and done in the playoffs — if we're lucky enough to make the postseason or even win a postseason game.
What we have now takes the Cowboys from potentially being a division winner to being a Wild Card contender.
If the two egos cannot get on the same page and fight for the betterment of the team, they both need to be fired come seasons end. Let us hope the two can put their differences aside and help the 'Boys live up to expectations.
Tags: Coaching Coaching Staff Cowboys Dallas Head Coach Jason Garrett Jerry Jones NFL Offensive Coordinator Wade Phillips